Customer Reviews
"Lake Norman Plumbing installed a new propane fueled Rinnai Tankless hot water heater last week in my home. From the start, Steve responded instantly to my request for information and two days later the heater was installed and working. Fabulous response time from a caring business owner who has learned his trade over many years of hard work and attention to detail. His installer Sasha was equally as impressive and his attention to detail exceeded my expectations. Both were very patient with my list of scores of questions and all were answered well to satisfy my engineering mind. Need to live with the Rinnai for a awhile to comment on energy savings etc. but with 95% basic energy efficiency I'm sure I'll like the result."
Steve Doolittle
Co-owner
Cool Breeze Cyclery &
Trek Bicycle Stores of Charlotte
Contact: 704-236-4549
www.coolbreezecyclery.com
"Steve…Thank you for the excellent response and installation of my new Rinnai Tankless Hot Water Heater. My hot water heater was not working properly and I never imagined that you would be able to have a new water heater installed the day after I first contacted you. You were prompt, polite, very professional and I'm very pleased with the installation and operation of the new hot water heater. In the future, Lake Norman Plumbing will be my plumber of choice."
Thanks Again
John C. - NC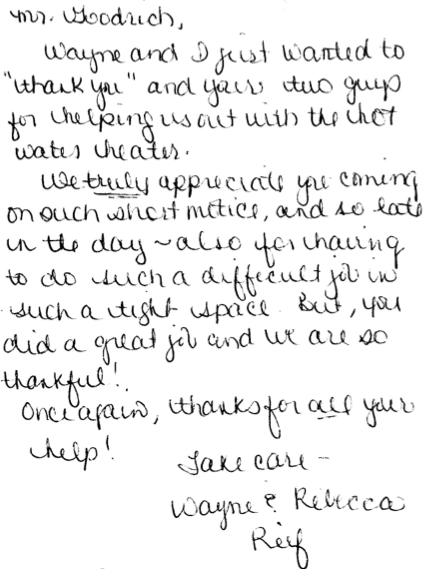 Wayne & Rebecca R.
---
"Last Thursday evening when I came home to find my hot water heater spewing water all over the upstairs storage closet, I ran to the Internet and called the first local plumber I found whose website said 24 hour availability. I braced myself as a I made the call, expecting to have to leave a message and hope for a timely (but likely surly) call back. Instead, Steve answered immediately and walked me through what to do until he could get here. He was here within an hour of my call, after hours and probably during his dinner time. Even so he was courteous and took time to help me get things cleaned up for the night. It was obvious the water heater needed to be replaced and Steve offered several different options. I never felt pressured to go for the high end and he assured me he would be out the next day to install the new one.

The next day he came when he said he would come. After going over the options overnight, we decided to go with the tankless water heater which was way more involved than what we had decided on the night before. While it was too late on Friday to get all of the supplies and things together, Steve assured me he would do the work on Saturday; no mark up. Again Steve and his team were here when he said they would be and kept me informed throughout the process. By the end of the day they had rerouted our plumbing to the garage and set up a Rinnai tankless water heater with water softener. That night I was finally able to fill up the bathtub and not run out of hot water while washing dishes and clothes all at the same time! Many thanks to Steve for his prompt and courteous response to my after hours panic call and for his expertise in helping us solve our hot water problems."
Kim N. - Denver, NC
---
"Lake Norman Plumbing did all the work in our kitchen and bath remodel. They were very professional, prompt and courteous, going above and beyond in several instances to make sure we would be satisfied with the work, providing extra value for the investment we were making in our home. For these reasons and more, I recommend Lake Norman Plumbing without hesitation for any plumbing project in your home. They are knowledgeable, helpful and professional and you can rest assured the job will be done right the first time, saving you both time and money in the long run."
Tracy B. - Mooresville, NC
---
"Steve and his team did a Fantastic job for us! The fast response time and staying on budget won us over. We have recommended Lake Norman Plumbing to our neighbors and family many times and we always hear back on how good the experience was."
Lisa - Troutman, NC
---
"I would like to recommend Lake Norman Plumbing and the work they did. They responded quickly, professionally and the work was excellent as is his follow up. This was the first time I had worked with Steve and I would recommend him to others. Our tankless hot water heater stopped working early one morning. I called a plumber I worked with previously, who did not return my message. I started looking for an alternative company and fortunately I found Lake Norman Plumbing. Steve quickly came to my home and found problems that others overlooked; as a result we could have had a serious gas leak if the issue was not quickly addressed. Steve worked with me to get a new water heater installed properly and quickly. He communicated professionally, and his team worked late and into the dark to make sure everything was in good working order before they finished. They left everything clean and followed up with me afterwards. I would not hesitate to call Lake Norman Plumbing again."
Molly A. - NC